World Fashion
Chanel Summer/Spring Collection Show 2012.
Notice that is white and form fitting, I love this look because it looks extremely classic and sophisticated.
- Tessa
Valentino models with braids at Paris Fashion Week
Updos are extremely in at the moment, from high fashion magazines to just people walking around Nice or Paris, you'll seem them everywhere by 2012. Many plaits orginate from France, like the fishtail, french braid and dutch braid (it's an inverted french braid) Braids are mainly popular because of their difference and it keeps hair up/away in a neat, pretty fashion. I would love to plait something like this but it looks extremely hard. I think the harder it looks, the more beautiful it is (well depends I guess, I wouldn't put my hair in a beehive or anything hard like that)
- Tessa 
France - Part 2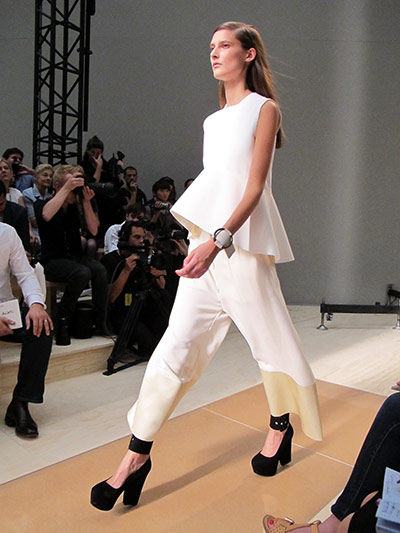 Modelling Phoebe Philo, Paris Fashion Week 2012.
As you can see the french still have the masculine sense to their style but like the rest of the world, are into their pastel colours. The clothing peice is mainly chiffon and silk. This outfit is almost sculptural with the flared top. It is certainly unique, that's what I love about it, it looks extremely comfortable too.
 Of course not everyone in France dresses like this, although France is well known all around the world for fashion, many people wear casual, day clothes, nothing fancy or flashy.
- Tessa
France - Part 1
The French are well known for their elegant and classic fashion. Through the years, the clothing has changed immensely so I decided to pick one era of time.
   France was the founder of 'Fashion Week', which is celebrated by many places all over the world, every year, like Berlin, New York, London and more. Fashion Week started in 1943, trying to distract the French from World War 2.
  I picked the 1920's, as fashion was really coming along in the likes of Jeanne Lanvin and Jean Patou. How could I even mention of French fashion without Coco Chanel coming to mind. I loved the fashion back then; they were forgetting the really long skirts and corsets and getting into more masculine clothing with short bobs and kitten heels. I think it was good because it portrayed women in more of a strong and independent way. But they still kept it feminine with "The Flapper Style". Which where neutral colour dresses that were long and loose, they had straps and sometimes had tassels. It still make people look young and boyish though was it gave them a long straight figure. Although it sounds really fun to wear and dress up, I didn't like the attitude towards that era, they wore heavy makeup, sometimes a lazy attitude, smoked regularly but then again, so do a lot of people in the world today. I just seemed a bit dark, but obviously not everyone was like that!
-T
Eternal Color Xie Ping Collection A/W 2012-2013 of China Fashion Week at Beijing Hotel on March 27, 2012 in Beijing, China.
Chinese fashion has changed a lot over time, even though they still keep up with their traditions, they put more of a twist into their designs. In the past, they have payed a lot of attention to their clothing and they still do, many young fashion designers like to use fine detail when making/designing clothes using symbols/colours to represent certain things, like using gold/bronze colours to represent good fortune. As you can see, the Eternal Color Zie Ping Collection focuses on red, that is meant to be good luck. In this collection, they also use studded heels, to represent power in woman. Other fashion trends like sheer materials, prints, blues and blacks are in this collection.
- Tess
Ocean vibe (by Chantal Li)
Modern chinese fashion, using colours and textures from Spring/Summer trends
China
Part 1: Then (and now) 
China was a wide variety of festivals and traditions, making their clothing extremely diverse, coming in different colours, shapes and textures. Clothing depended on the ran/social status/money/origin of the person.It also changed if festivals were taking place. The clothing in general is referred to as "Hanfu" which dates back to 221 B.C, when an emperor called Qin Shihuang who set up a uniform to distinguish a person's rank and social position.
The three main types of Chinese/Han clothing:
The pien fu, an ancient two-piece costume, top extending to the knew and skirt/trousers extending to the ankle
The changpao, one piece extending from shoulders to heels
The shenyi, mixture of the pienfu and the changpao.
    Red was and still is a very popular colour, as it is said to wear off evil spirits and supposedly brings good luck, it is often worn during weddings.
Cheongsam dresses
This is a Cheongsam, most popular clothing garment for women. I decided to specifically talk about this is as it's most well recognized across the world. The Chinese are fabulous at creating different styles and colours of garments, clothing facture in China dates back to at least 7,000 years ago! So they clearly have a lot of skill in their blood. Cheongsams are very versatile, they are made out of silk but come with lots of different decor like plain lattices, patterns of flowers and more. I really like Cheongsams, I think they represent femininity and class.
The Lantern Festival
Chinese still dress up for festivals and traditions all around the world, even if not in full costume, a lot incorporate it into modern day clothing which I find amazing because I feel like a lot of cultures are dying out and I really respect Han people for keeping it alive even if it's something small. China have many festivals to keep their culture going like The Lantern Festival, Spring Festival, Pure and Bright festival which I find amazing compared to Ireland, which the only Irish thing we celebrate is St.Patrick's day where half the country get drunk and forget what they're actually celebrating about. A lot of the Hanfu clothing represents poise, grace and respect which I admire. 
- Tess
World Fashion Introduction
As a girl, I'm extremely interested in fashion all over the world, so I decided to blog about it, I want to find out more about different cultures and how they dress, modern and old styles. I want to find out where the fabrics/ideas come from. I shall find the fashion through magazines, other blogs and people I know around the world. I find blogging really exciting as I have other type of blogs on Blogger and Tumblr.

- Tessa